Mission:
FLC plays a powerful and effective federating role in the Lebanese audiovisual industry, by supporting the development of a competitive Lebanese film industry and establishing Lebanon as a prominent international production location.
Atelier de coproduction franco-libanais
Objectives:
1.We Support the development of the film industry in Lebanon by:
– Organizing annual workshops for filmmakers and specialized seminars
– Stimulating the development of Lebanese funds to support and finance local films.
2. We Facilitate local film production by:
– Launching a database of the Lebanese audiovisual professionals in Lebanon and abroad.
– Assembling and disseminating the right information and assisting in the administrative procedures with the appropriate public bodies.
3. We Promote Lebanon as a key destination for international film production by:
– Hosting, organizing and participating in regional and international festivals and events.
– Crafting and creating bridges between local and international professionals.
– Participating in the public debates that contribute to the policy making process offering financial incentives for film makers.
4. We Preserve the Lebanese audiovisual heritage by:
– Restoring and digitalizing old feature films and the archives of old public productions.
– Making such archives available for research and film making
FLC Fundraising Event – Screening Ila Ayn by Georges Nasser

On the occasion of the yearly fundraising event of FLC, a special screening of Ila Ayn by Lebanese legend Georges Nasser in a remarkably 4k restored version took place on December 5 at Beirut Souks, with the support of Bankmed.
Ila Ayn was the First Lebanese film to be presented at Cannes Film Festival in 1957, and selected at Cannes Classics in 2017, and with the help of Abbout Productions, The Talkies and Nadi Lekol Nas, Fondation Liban Cinema was able to restore the film and screen it.
Ila Ayn- explores the theme of exile and emigration with infinite poetry … Half a century later, the situation continues to exist.
More than 400 people were able to live the emotion of "Ila Ayn", and during the red carpet event, we had the privilege of having Georges Nasser with us, 90 years old, pioneer and visionary director who left his mark on Lebanese independent cinema.
At the end of the screening, a ticket was drawn and one lucky person won an exquisite pendant- Beirut Key set by Selim Mouzannar whose creations have been worn by none other than Jennifer Lawrence, Isabelle Adjani among others.
As usual, thanks to our sponsors and the people who never fail to attend our fundraising event, FLC will be able to pursue its mission in supporting the Lebanese cinema !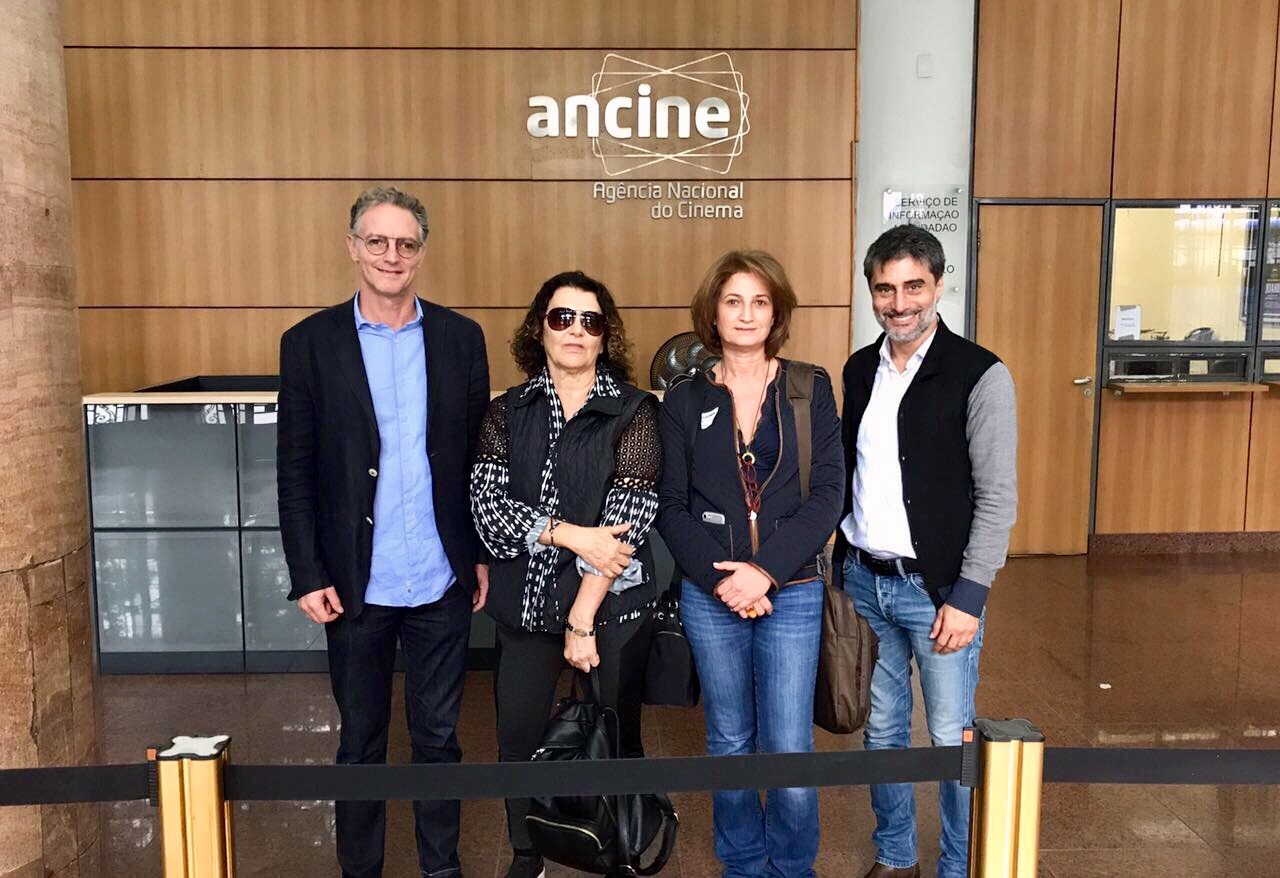 First positive contact at the headquarters of Ancine (Agência Nacional do Cinema)in Brazil… hoping to witness a coproduction agreement very soon between Lebanon and Brazil.
Film Lebanese Cinema 2017
For the year 2017, FLC decided to produce a short film about the progression and the evolution of the Lebanese Cinema till today.
Directed by Lebanese filmmaker Nadim Tabet and with the support of Pierre Sarraf, this film sheds light on the importance of the cinema industry in Lebanon and announces the upcoming big productions for the year to come,
The Lebanese cinema is doing well, proof is the increasing number of films per year and the unavoidable presence of Lebanese cinematographers year after year in major international festivals
Atelier de réécriture de long-métrage de fiction 2018 
Scroll down for English…
La Fondation Liban Cinéma-FLC, en partenariat avec l'Institut Français du Liban, a organisé sa 7ème édition de l'Atelier de Réécriture de Scénario de long métrage de fiction.
L'atelier se déroule sur deux sessions : La première a eu lieu du 15 au 19 Janvier 2018 et sera suivie d'une seconde session du 18 au 22 Mars.
L'atelier est dirigé par 2 scénaristes experts confirmés Marcel Beaulieu du Canada, Magali Negroni de France, accompagnés d'Antoine Waked du Liban.
Cette année nous avons reçu deux fois plus de projets que l'année dernière. Nous en sommes ravis !
Après un mois de lecture et une longue séance de délibération, un comité de sélection composé de professionnels a fini par choisir 4 projets.
Paradise Valley de Cynthia Sawma 
Club 534 de Christophe Nassif
Rabies de Sandra Tabet
Golf Club de Nadim Tabet 
Durant l'atelier et au cours d'entretiens individuels et collectifs, les trois scénaristes feront l'expertise des scénarios sélectionnés et accompagneront généreusement les 4 réalisateurs/scénaristes libanais dans la réécriture de leur scénario afin qu'ils puissent élaborer des travaux plus aboutis et susceptibles de retenir l'attention des producteurs et/ou des fonds d'aide.
Master Class et Etude de Cas :
La seconde session sera ponctuée par une Master Class autour de l'écriture de scénario ou une étude de cas.
Prix « Coup de Pouce »
A la suite de la seconde session, un jury de professionnels décernera un prix au projet qui aura montré la meilleure progression durant les sessions et qui aura besoin d'un encadrement supplémentaire pour aboutir.
Pour rappel, en Mars 2017, le projet « Occurences » du lauréat Nizar Sfeir a bénéficié d'une Résidence d'artiste sur 1 mois à la Cité des Arts de Paris.
Feature Fiction Re-writing Workshop 2018
Fondation Liban Cinema-FLC, in partnership with the French Institute of Lebanon, organized its 7th edition of the Feature Fiction Re-Writing Workshop.
The workshop is held in 2 sessions: The first one from the 15th till the 19th of January 2018 and will be followed by a second session from 18 till the 22nd of March.
The workshop hosts 2 professional script doctors: Marcel Beaulieu from Canada and Magali Negroni from France, accompanied by Antoine Waked from Lebanon.
This year, we have received two times more projects than last year and we are thrilled about it!
After a long deliberation session, the jury composed of professionals, have selected 4 projects to take part of this year's workshop.
Paradise Valley : Cynthia Sawma
Club 534 : Christophe Nassif
Rabies : Sandra Tabet 
Golf Club : Nadim Tabet
The workshop's Program:
During the workshop and through one-on-one meetings and collective round tables, the 2 experts will be assisting, helping and brainstorming with the 4 Lebanese Directors/Scriptwriters on their script so that the selected candidates can have a solid project to be presented to producers and/or funds.
Master Class and Case Study
The second session will host an expert who will present a « Case Study » on a precise Lebanese film or a Master Class on Scriptwriting.
The « Coup de Pouce » Award
At the end of the second session, a jury of professionals will give a price to one project amongst the 4 that had previously showed progression during the workshop and that still needs a small help in order to be accomplished.
In March 2017, the script "Occurences" of Nizar Sfeir, won this award that helped continue developing his script for 1 month in a Residency "Résidence des Cités des Arts" in Paris..